Ways to Successfully Market your Service Business
If your first response to the thought of marketing your service business is, "But, I'm not good at sales!", take a step back. Marketing your business is about building and nurturing relationships, not pandering or harassing people to buy what you're 'selling'. Clamming up isn't necessarily a bad reaction, as it shows you have empathy and authenticity, and may have had a terrible interaction with sales reps before.
However, use that experience to propel your forward with a positive energy! You are offering a solution to a problem they may be having, and sharing that knowledge in the way of your brand is a great way to help others.
In order to find that niche problem, you need to do some searching so you can better target your ideal audience. Before you go searching for that audience, you need to make sure you have content and your expertise lined up ready to share for those looking for solutions. Share testimonials and create challenges on social media sites to attract your audience, but you want to be able to reflect your true authenticity to your brand to show those them that you're a knowledgeable, caring expert in your field.
Where to Find your Audience
Diversifying your efforts is a great way to find the audience you're looking for. Here are a few places you can begin your search and ways to maximize your efficiency:
Social Media – With the number of platforms available, it can be very overwhelming trying to decide which ones to go with here. Think about your audience demographic, and research which platform is the most popular with that specific audience. Keep it small, focusing only on 1-2 for now, and know you can expand later, if needed. Create content and build rapport and trust – the clients will come to you. You can also research hashtags that fit your brand and reach out to your influencers to build those relationships.
Website – From those social media sites, make sure you have links and posts redirecting people back to your site. Remember, social media posts can make great teasers for content you have more firmly embedded on your site. This should be where your audience can find blogs, free resources, and links to your courses and challenges you have to keep them interested. You can also collect their email addresses to build an email marketing list.
Direct Marketing (aka Email Marketing/Direct messaging, etc) – This is a great way to build on the first two points above and keep your clients engaged. Nurture those relationships you have established here, and be authentic and consistent with your marketing. This is a great way to educate your audience on what you're offering and how you are the right business for them.
Referral Marketing – This is also known as "word of mouth" marketing, collaborative marketing, network marketing, referral partnerships, and loyalty programs. That's a lot, I know, but these are very powerful strategies for marketing your service based business! Referred audiences are more loyal and profitable, as they're relying on trust to use your services, and have a higher retention rate. This goes hand in hand with service, as it's a cooperation amongst businesses to help each other grow – remember, not everything in business is about competition.
This last point of Referral Marketing is what I want to dive deeper into with you!
The Power of Referral Marketing & How to Develop a Successful Referral Partnership
According to Liquid Capital Corp, "69% of companies with a trusted referral program will close deals faster", and according to Neilson, "92% of consumers around the world say they trust recommendations from people in their network more than any other source". This is huge. People trust who they know. Think about it – the last time you purchased a good or service, or ate at a new restaurant, or booked a hotel stay, you considered reviews and recommendations. So, why wouldn't you use this for your own service based business?
What to Consider before Choosing a Referral Partner
When choosing a referral partner, make sure you consider that what you're asking them to share and provide can supplement value to their business, as well. You want to ensure this is not a 'one way street'. The service you provide to the people they've sent in your direction a reflection on them, and customers remember that. You want to provide excellent service so that both parties come out shining like true professionals.
Three Elements of a Successful Collaboration with your Referral Partner
There are some steps to take to ensure you are a great partner in this relationship.
Choose Businesses that you Trust – Remember, you're going for authenticity of your brand, so you need to trust the businesses you're partnering with. This is your reputation on the line, and you don't want someone who doesn't match (or improve) what you're bringing to the table. If you get the vibe that they're too 'cheesy' or 'pushy', or give you the sales vibe you spend your life avoiding, they may not be right for you.
Create a balanced team and be a great team member – Understanding your strengths and weaknesses and partnering with someone who can accentuate those positives and fill in the gaps where you need a little more work is a great start to a solid partnership. Consider how they compare to you in demographics, industry knowledge, or who they may already be partnering with to make sure you're challenging your business the right way.
Harmonious Businesses – Go for someone who is complementary to your business, but not necessarily in the same industry. Make sure they have similar target markets and similar marketing goals so you're both working together in the same direction.
Clarify Expectations to Make Sure You're on the Same Page
It does neither business any good if you're not clear about what to expect from each other. Here are a few things you can do to be in sync before you begin.
State intentions and expectations – This can be about whether or not you charge commission, what is tracked vs. what isn't, and how many posts or social media shares you're going for per week or month. Keep it simple by making sure it's documented in a shared, easy to access file.
Be Clear about your audience needs – Understand the impact you are striving to have on your specific audience, and what that success looks like.
Communicate Clearly about what you are Bringing to the Table – Make sure you outline what you are specifically offering for your audience, after all, the audience is king!
Agree on Shared Goals – It's easier to strive for your goals when you know what they are, and this ensures your partner knows the intent behind your actions and plans.
Will you Track or Measure Success? If so, how? – Agree upon how you will consider what success looks like, so you can both count your wins, and make changes for improvements as you go.
Be honest, transparent and ethical – This is a non-negotiable. Make sure your standards and mission statement are laid out, and that the way you do business is not open for interpretation.
Communicate regularly for status updates – You should be checking in with each other on a regular basis to understand the metrics and your next marketing move.
Referral Marketing can be a huge step forward for your business, and as daunting as it seems, the key is to take small, measurable steps. Approach this partnership with how you can serve your new partner's needs, and what you can provide for their business. It's okay to start small and build the relationship from there!
If you own a small, Service-based business, you know right off the bat that you have differing needs than a product or goods based business. It can be overwhelming when you consider how different your marketing strategies can be for services, how to grow your lead base, or if a collaboration project is the right option to help you propel your business forward. In this article, I want to go over a variety of ways you can successfully market your small business, where to find your specific audience, and the importance of Referral Marketing (also known as collaborative marketing). By the end, you'll understand why Referral Marketing is a great step for your business, and how to implement a partnership successfully.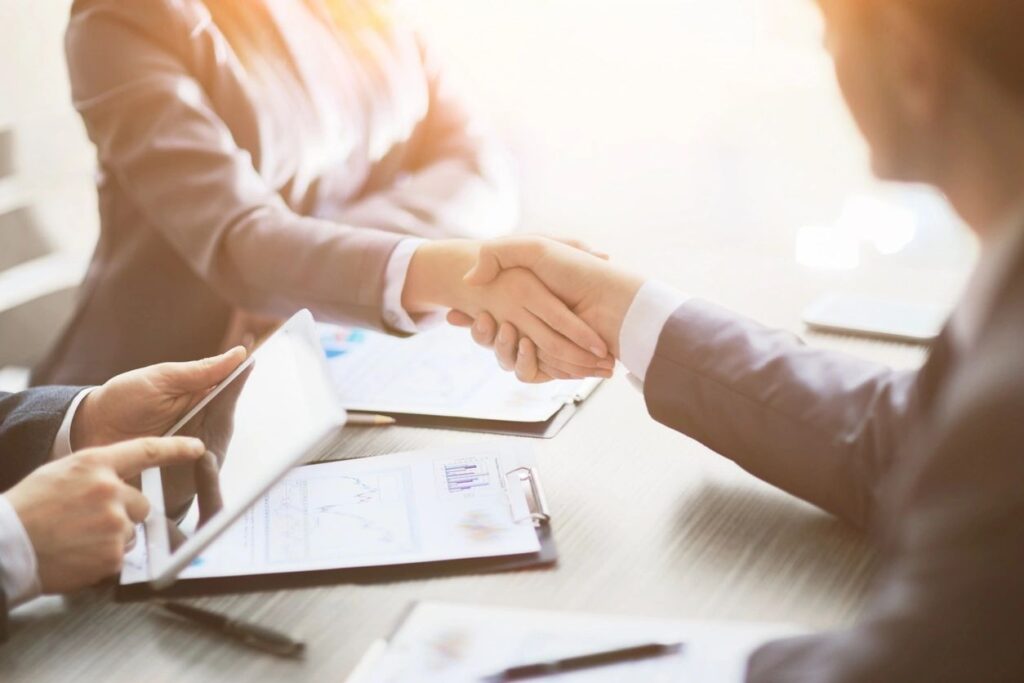 Do You Want To Boost Your Business?
drop us a line and keep in touch